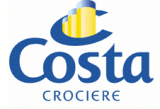 Internship at Itinerary Planning Department - Costa Crociere
Genova, LIG 16100
Internship at Itinerary Planning Department
Here at Costa we have a mantra: we want you the way you are! Costa people are heterogeneous by culture, age, personality – and we love them like that. Each of our internships is a precious opportunity to discover the heart of our Headquarter and business, gaining strong skills in a stimulating environment. We deeply believe in the positive impact that brilliant neo-graduates will give us: that's why we invest on them with a 6 months period of continuous training.
For our Itinerary Planning office we're looking for an intern who'll support the following key activities:
Project management of itineraries continuous improvement: requests tracking, data collection, cross-department coordination, decision-making support, documentation update and weekly guidance of internal meeting (English speaking);

Quarterly financial and customer satisfaction analysis of itinerary performance: develop KPIs for each itinerary based on Profit and Losses and guest satisfaction comment forms;

Competition analysis: update dataset, create self-explanatory charts to detect trends and variances;

Support team with analysis and documentation drafts for development of supply strategy over the long term, including Marketing Customer surveys for new product development.
The Itinerary Planning office is in charge to develop the fleet deployment strategy over the long run and drive the process to design and implement all itineraries on offer.
This internship allows you to get a privileged position to achieve a broad understanding of the cruise industry, being itineraries at the core of the value proposition, in terms of both commercial strategy and operations.
Job Requirements:
Requirements:
- Bachelor and/or Master's Degree in Economics, Business Administration, Management, Engineering, Statistics or similar
- Good knowledge of English
- Good self-organization skills
- Good analytical capabilities combined with strong commercial acumen
- Strong communication skills
- Self-starter with an entrepreneurial attitude
- Good knowledge of Excel and Power Point