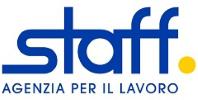 Internal Quality Engineer - Staff spa
Parma, EMR 43100
STAFF Agenzia per il Lavoro - Filiale di Parma aut. Min. Prot.11781 ricerca e seleziona per Azienda Cliente in Provincia di Parma
n° 1 Internal Quality Engineer
who, in direct report to the Quality & After Sales Manager, will ensure the respect of the standard defined in order to guarantee the full customer satisfaction on products and processes requirements.
Your responsibilities will be :
- New or existing production processes monitoring through process audit with authority to stop production in case of serious or potential non-compliance
- Quality indicator monitoring (internal PPM, COPQ, audit score)
Your activities will be:
- Participate at the continuous improvement activities related to the quality of processes
- Perform regular process audit
- Managing of the follow up implementation activities
- Monitor new or existing production processes through process audit
- Support and follow up Problem Solving
- Daily use of the Quality Tools
- Evaluate the contents of process FMEAs to prevent failures and risks
We are looking for the following Technical Skills:
1. ISO 9001:2015 ISO 14001:2015
2. Non conformity and corrective / preventive actions management
3. Audit Techniques
4. Quality tools
5. Problem solving techniques
6. Technical drawing
and the following Soft Skills:
1. Interaction
2. Teamworking
3. Change management
4. Responsibility and Autonomy
we are also looking for a candidate who has:
· a master degree in mechanical engineering
· 2 years of practice in a Quality Department of a Multinational Company
· the following qualification: process and system auditor / six sigma green belt
· a fluent English
Per candidarsi inviare cv a: parma@staff.it
Per candidarsi inviare cv con autorizzazione al trattamento dei dati personali (Dlgs 196/03 e GDPR Reg. Eu. 679/2016 Codice in materia di protezione dei dati personali); i candidati possono visionare l'informativa privacy su staff.it.
La ricerca si intende rivolta ai candidati di ambo i sessi ai sensi delle leggi 903/77 e 125/91. Staff S.P.A. è iscritta all'Albo informatico delle Agenzie per il Lavoro sez. I del Ministero del Lavoro e P.S. prot. n° 39/0011781.