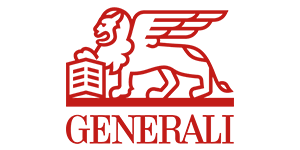 Innovation Activation - Generali Group
Milano, LOM
Generali is a major player in the global insurance industry – a strategic and highly important sector for the growth, development and welfare of modern societies.
Over almost 200 years, we have built a multinational Group that is present in more than 60 countries, with 470 companies and nearly 80,000 employees. Our Group aims to become the standard bearer and industry leader in the European retail insurance market, building on our existing base of 50 million retail clients, out of an overall total of 72 million.
Activating innovation means making innovation happen across the Generali group.
This role plays a fundamental part in providing access to funding and support for key innovation projects across the group. It is also responsible for creating and overseeing a network of innovators to implement and scale ideas across multiple business units.
This role is pivotal to the successful instigation, acceleration, management and monitoring of practical innovation activity for the group.
The successful candidate will be responsible for:
Managing the operation of the central innovation fund, including:
Promoting and overseeing the process of idea generation for the central innovation fund
Collation and assessment of ideas submitted to the fund at key milestones for review and approval by the Investment Fund Board
Distributing central innovation funds to successful applicants
Collating performance metrics on implementation of ideas from Business Units (BUs) who have successfully obtained funding
Monitoring an innovation portfolio to track significant innovations across the Group (both within and outside of the innovation fund) 
Activating key innovation initiatives within BUs across the Generali group, including:
Supporting the delivery of innovation initiatives which have secured central funding through coaching and consultancy

Providing coaching and consultancy to additional innovation initiatives as requested by individual business units

Planning and enabling specific, targeted innovation initiatives, which tackle key strategic objectives or innovation themes.
Scaling up new ideas across multiple BUs through:
Prioritizing ideas which present an opportunity to be scaled up across multiple BUs

Facilitating a network of innovation practitioners, to assist in the implementation of new ideas across multiple BUs through coaching and consultancy

Monitoring the success of implementing ideas across multiple regions by developing a method to track performance and tackle blockers to progress

Creating and managing a broader innovation community, where expertise, experiences and ideas can be shared amongst teams executing innovation projects from across the group
Own and oversee the governance and best practice of the central innovation function, including:
Creating and producing clear reports which illustrate the performance of innovation activity against agreed KPIs
Curating and managing innovation methodology and innovation tools, for use by Generali staff across innovation projects
Managing both operations and resources to ensure the successful delivery of innovation projects
Overseeing the internal and external communication of key messages around innovation at Generali in conjunction with Internal Communications
The ideal candidate will meet the following requirements:
 
Must have
Ability to manage a function of strategic importance
Ability to lead and manage large complex projects across multiple geographies and business types
Ability to objectively select and prioritize strategic initiatives which will deliver optimum business benefit
Ability to use experience, insights and expert advice to make strategic decisions
Ability to create, implement and maintain mechanisms that ensure the effective delivery of initiatives
Ability to engage and communicate assertively with multiple stakeholders, up to and including C-suite executives
Ability to manage, coach and train a team of innovation practitioners to deliver on innovation objectives 
Soft skills
Have a practical knowledge of business strategy
Have a practical knowledge of innovation philosophies, methods and tools
Have experience using agile/lean project management methodologies (or similar)
Have a practical knowledge of the insurance industry and the products and services that Generali provide
Have strong presentation skills
Be an excellent communicator both orally and in writing
Have practical experience within an international working environment 
Have the ability to influencing and negotiate across a number of different cultures
Be resilient and have the persistence to see initiatives through
Have excellent relationship management skills
Telelavoro
Pensioni integrative
Palestra aziendale
Assicurazione sanitaria
Asilo aziendale
Assicurazione Vita
Sale relax
Parcheggio
Flessibilità orari
Convenzioni